In an era of a consumption society and globalization the Directive of European Commission (EC) identifies the priority targets of its policy, the conservation, the protection of human health and the cautious and rational use of nature resources.
For the adherence to the European Union, Romania has committed to collect 4 kilo per citizen of WEEE in the entire year.
Every appliance is formed of a combination of components that contains different substances, some of them dangerous, that on one hand can be used as secondary raw materials that can be re-used or, on the other hand, can become a major source of environment pollution.
The most dangerous substances from EEE are: lead, mercury, cadmium, chromium, chlorine and bromide substances.
Many types of appliances such as computers, monitors, printers and scanners contain material that is conveniently used in new products. The electronic equipment is composed by different materials that have often very high values as: gold, platinum, silver, copper, etc.
While some substances are produced by nature, such as chromium, that in the natural form is a harmless material, when are used in confection of the appliances, result dangerous compounds. These substances are very toxic and harmful to humans and to the environment where are left out.
For the manufacture of EEE are used many types of plastics. From these, styrene (ABS, ASA, SAN, PS, HIPS) and polypropylene (PP) represent about 70% from the quantity of plastic materials that is used; those polymers must be considered the main way to improve the recycling of plastics materials from WEEE.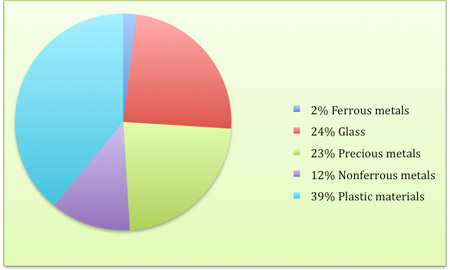 Figure 1. Composition of a computer